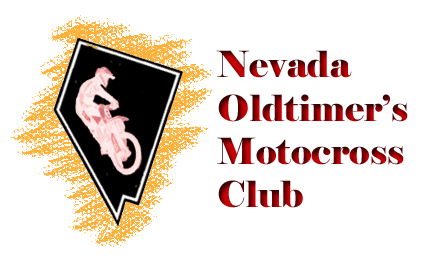 Nevada Old Timer Membership Application
Welcome to The Nevada Old Timer's web site. The Old Timer's club is a nonprofit organization. We are all volunteers. As a club we are committed to:
| | |
| --- | --- |
| | Helping to preserve the traditional sport of outdoor motocross. |
| | Helping to maintain and improve the safety of the sport. |
| | Helping to organize safe motocross racing for Northern Nevada. |
| | Encouraging and promoting the International Old timer's Organization and race series. |
Monthly Meeting
The monthly meeting of the Nevada Old Timers is the Second Tuesday night of the month at the Pizza Plus in the Sparks Iron Horse shopping center. It starts at 7:00p. Pizza, Wings and Things plus refreshing beverages.
The Old Timer's race facility is the Fernley International Raceway at Fernley, Nevada. Our club has used and maintained the Fernley site for more than 30 years. We coordinate between 10 to 15 races and practice days per year. The organizing efforts are shared by both the Old Timer members and the Over-The Hill-Gang (Vets). The race proceeds benefit each non-profit club and our efforts toward improving the track. Additionally, each club donates considerably to the Fernley/Wadsworth Lions Club each year.
The Old Timer's Club engages in at least two local race series per year. Our race series usually consist of several races at the Fernley track in addition to races at other independent race locations. Series vary from 3 to 8 events at about two week time intervals. Check our calendar for any ongoing series.
The Nevada Oldtimers thank the following shops for their help and support throughout the year.
● Nevada Motorcycles Specialties
● Testa Motorsports
As a courtesy, the Nevada Oldtimers list all MX races
that we are aware of in Northern Nevada.
Reno Over The Hill Gang .........Fernley International Raceway......... Layne Kolbet
Nevada Old Timers .................Fernley International Raceway......(775) 240-2851
Winnemucca Track..................Winnemucca, NV...........................(775) 625-4444
Refer to the series flyers for dates and times or call the promoter.
Webmaster Bob Fabel